Do you need a mold inspection? Does the property smell damp or musty? Can you see the presence of mold on any surface?
We offer two different types of mold inspection depending on your own personal requirements. Both of which come with supported infrared images that show extremely detailed views of any moisture present.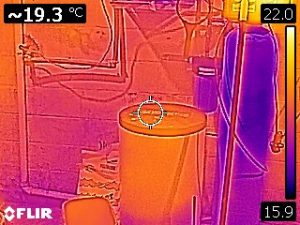 Mold Inspection – Without Sampling
Mold Inspection – With Sampling
Both inspections will consist of a full property search including the exterior where any high moisture content areas will be located and investigated.
The "Without Sampling" inspection will not involve any air or surface samples but a full report will be provided which will include photographic evidence to support any comments \ findings within the report.
The "With Sampling" inspection includes 3 air samples and a surface sample which are all sent to the lab for analysis. Upon receipt of the lap report a full report is then provided including everything reported from the lab as well as a written report with supported photographic evidence.
A few key points with regard to mold:
The presence of mold generates questions about health issues and how dangerous exposure to mold is to both adults and children.
Mold is created by the presence of constant moisture or excessive moisture in a certain area. It requires moisture to continue growing and can cause significant damage to drywall, wood and other materials.
Locating the excessive moisture areas and repairing them to enable the affected areas to dry properly is absolutely essential when mitigating any mold problem.
Once the moisture problem has been resolved any surface mold will still need to be removed to complete the mitigation process.
For further information on mold please click on the following link to the EPA website: https://www.epa.gov/mold